While GAD has been a vending and game equipment distributor for over 30 years, its just recently that we've proudly added Jersey Jack Pinball to our authorized distribution.
Why would a successful distributor like GAD ask Jersey Jack for a distributorship? Let's name just a few….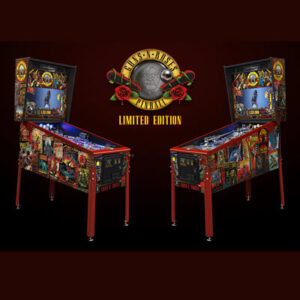 Guns N' Roses pinball is absolutely a smash hit! Jersey Jack has created a game unlike any other and it has made GNR fans (like us) excited for this game. Available in Collector's, Limited and Standard Editions, GAD is committed to pre-ordering games for fans – and for inventory availability to our region.
Jersey Jack is a leader in the pinball industry.
Jersey Jack's games are lots of fun for the entire family. Take Pirates of the Caribbean. There are 3.25 sextillion game play versions – and we want to play every one of them. That doesn't even scratch the surface of Willy Wonka and the Chocolate Factory and Wizard of Oz.
GAD knows pinball – and how to fix these machines. Jersey Jack is a natural fit to our sales and service departments.
If you want pricing, to know where a Jersey Jack pinball game near you, what we have in stock or just general questions about pinball, GAD is here to answer questions. And, the first answer is YES – we sell to both commercial arcades and home buyers.