GAD Knows Home Game Rooms
Games and Pinball keep your family and friends entertained – at home.
Check out most of our pinball, Golden Tee Home Edition, and G3 Fire darts for Internet connected games. Play with friends remotely. Track scores. Participate in tournaments around the world. Get new content and updates automatically.
It's a great time to look at Stern's new home "Pin" edition games. All the quality. All the playfield features. Set for free play. 2022 is the time to set up your home game room.
Call GAD to furnish your home with the ultimate, commercial quality games.
GAD Knows Fun Games for Entertaining at Home
You, your family and friends deserve a complete entertainment experience
Home is a special place and even more so with stay at home restrictions. Family memories, work from home office, home school, and where we get to relax and be ourselves. We spend money to create a healthy space for work and exercise – why not add ultimate entertainment!
Professional and home edition games are available at GAD Vending. We are experts in the games that mix to match the family ages, space requirements and long lasting entertainment for the entire family.
Our website represents just a few of the many games we have in stock. Call us! We'll help you determine the best games and the most current specials available.
Pick-up. Arrange delivery. Ship to your home. We service customers in Nebraska, Iowa, South Dakota, Kansas and Missouri.
GAD Vending happily accepts check or credit card. We will give you a bill total with all delivery charges and taxes prior to completing your order.
GAD Knows Home Edition Golden Tee PGA Tour

The Golden Tee Home Edition 2021 is being replaced in the future with the Golden Tee PGA Tour Home Edition. GAD Vending will have various versions available.
Golden Tee 2021 Home Edition is the exact same game- arcade-style cabinet and all- that you have played and adored at bars and pubs for over 30 years. Designed for home use, this special Home Edition Golden Tee comes equipped with dozens of courses and a wide variety of features and formats that make it a must-have item for every game room, basement or man cave.
Greater America Vending stocks GT2021 home version and Golden Tee PGA Tour commercial arcade games – and Golden Tee arcade machine parts. Join the Golden Tee Evolution and pick up yours today!
Real Time Rivals featuring PGA Tour Pro John Daly
Real Time Rivals is an all-new game format where you can compete against computer opponents, including PGA Tour legend John Daly. See how you stack up against other colorful competitors on a variety of new and old courses. Dominate the duffers, get schooled by the pros and even learn some new shortcuts and techniques.
More Game Modes for Maximum Variety
Skins: A Home Edition Exclusive! Play your buddies for bragging rights one hole at a time. Skins, played with 2 through 4 players, is not about total score, it's about beating your opponents on as many of the 18 holes as you possibly can!
Closest-to-the-pin: Get as close to the pin as you possibly can in this fast-paced 9-hole game. It's the perfect game mode for groups and parties, or players in search of a fun, quick fix.
Unique and Imaginative Courses
Travel the globe. Play in the shadow of the Eiffel Tower or at the top of Mount Everest. Explore a winery in Italy or journey to Africa for an 18-hole safari. Touchdown in Ireland and enjoy true links golf; then jet to Hawaii to immerse yourself in paradise.
All these new 2021 Golden Tee courses can be yours! Call GAD Vending to get yours today!
Online Tournament/Stat Tracking
Check in with a Player Card or the keypad each time you play and track your Golden Tee progress. Every game you play will add to your lifetime stats. Check the number of rounds played, your average and handicap scores and how many holes in one you've hit over your career.
Want to compete with players around North America? Select Online Contests and automatically join a contest with 19 other players. See how you stack up on national leader boards for bragging rights and friendly competition. Play enough games and find where you stand on the monthly World Rankings!
All these new 2021 Golden Tee courses can be yours! GAD Knows Golden Tee.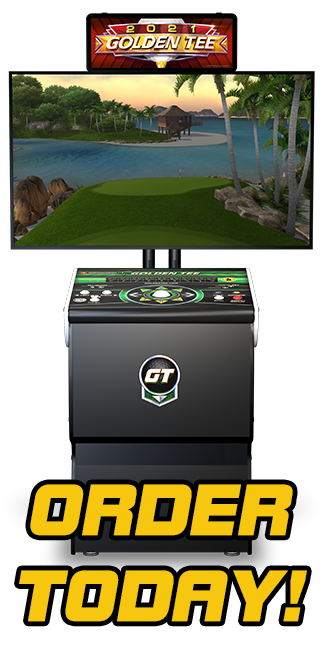 GAD Knows Traditional Arcade Games for Home
Wholesome Entertainment for the Family
GAD knows Classic Arcade Games.
One of our favorite home arcade solution is the Classic-Cade Arcade game in the console or cocktail game table configuration. Both have over 60 classic games programmed and available for single or team play.
Games include: Pac Man, Ms. Pacman, Frogger, Asteroids, Donkey Kong, Mario Bros, Space Invaders, Centipede, Galaga, Pong and so many more!
Classic-Cade is in stock in both the arcade and table versions. Our offices are in Omaha, Kansas City and Des Moines.
CLASSIC-CADE UPRIGHT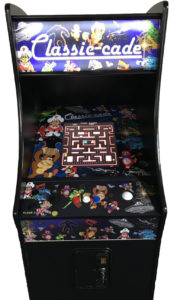 CLASSIC-CADE TABLE
GAD Knows Pinball
Pinball is the classic home game room staple!
Owning a pinball machine can provide years of enjoyment! Making the decision to have a pinball game in your home has a number of inherent questions.
What does a new pinball game cost?
New pinball games vary in price greatly. The manufacturer of our new games set the "Manufacturer Suggested Retail" that we are required to stay within by contract. Price also can include – shipping, delivery, and sales tax. Our sales team is always happy to quote a price on any of our pinball games. Or provide you with option within your budget.
Can I pick up my pinball machine?
Yes! We have offices in Nebraska, Iowa and Kansas City with inventory.
Do you help with setting up my pinball?
Yes! Our service techs can have your pinball game checked out prior to leaving our warehouse. Set the pay to "free play".

Service techs can review with you what you need to know to set up your machine. How to authenticate to the internet. And, answer any other questions.
Does GAD Vending sell used pinball games?
Occasionally. There are times were we take a trade of a used pinball game that is worthy of refurbishing. These used pinball games make their way through our service department and become available for sale.
Visit our pinball page for an entire look at our manufacturers and premier game titles.
STERN PINBALL
Stern Pinball is known for their best in the world graphics, LED lighting packages and sound. Games include: The Mandalorian, Led Zeppelin, Avengers: Infinity Quest and more.
CHICAGO PINBALL
Chicago gaming creates pinball games for the entire family! Titles such as Attack from Mars and Monster Bash are game room favorites.
AMERICAN PINBALL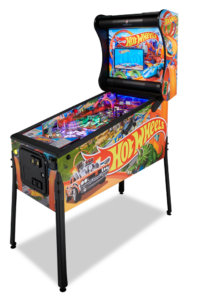 New for 2021 is Hot Wheels. American Pinball has made this an instant fan favorites. Pinball designed for the home casual player, pinball professional and collector.
JERSEY JACK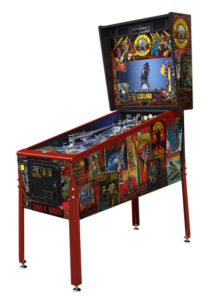 Jersey Jack is an amazing innovator in the pinball industry – and the Guns 'N Roses Not in this Lifetime game shows off their best talents. Get one for your home game room.
And GAD Knows Even More Games
Complete your Game Room for years of fun
The choices for traditional games is as wide as your imagination. Our team knows how to assess the best game combination based on family age requirements, space limitations, budget and longevity of play.
Yes, we stock these games!
Start with the understanding we sell commercial quality games. Our residential customers appreciate the quality, durability and long term usability of our machines.
GAD Vending also services what we sell. We know how to help you connect to the internet to play tournaments, or just play your family. We stock parts, have trained service technicians and can answer your questions.
Lots of games to choose from!
GAD knows traditional games like ping pong, shuffleboard, and foosball. Manual and electronic dart boards. Beautiful pool tables. Digital jukeboxes. Basketball shooting games. Speaker systems, indoor and out. And, add a vending machine!
Just what your family needs for stay-at-home, game night or entertaining friends.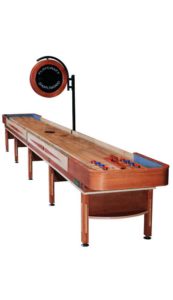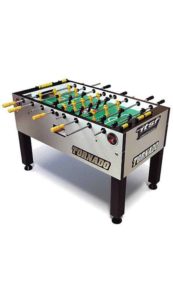 GAD KNOWS GAMES
At GAD we understand this is a big deal to get a great, new game for your home. And, you want to buy the right games for your family's long term play. With the service technicians and parts to take care of your equipment. Call us! Our GAD sales teams are located in Omaha, Des Moines and Kansas City.
Having sold and serviced games for over 30 years, GAD knows games.
Are You Ready?
Want Home Edition Golden Tee for your bar? Need an electronic dart board to play your friends remotely? Always wanted the perfect pinball machine? Ready to set up a man cave with high quality foosball, shuffleboard and a basketball shooting machine? Looking to keep the kids and their friends at your house? Or need to repair what you have. Sales and technicians in Iowa, Kansas, Missouri, and Nebraska.