Choosing a new jukebox to add to your route doesn't have to be a complicated decision. Today, there are lots of similarities across brands – from great lighting and sound, to mobile integration, to having all the music that matters most.
How is AMI different? That's easy! AMI generates better profitability with both song AND music video plays, simplifies your life with one set of parts, and provides the same level of friendly and helpful support to all customers, regardless of their size. The NGX Mini 3 replaces the NGX 2.
Businesses that operate AMI earn more while spending less. The compact NGX Mini 3 gives you great sound, unbeatable music, and dynamic lighting effects to entertain any crowd.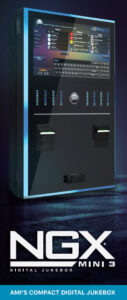 Connect customers of all ages with the artists and genres they love the most – all searchable through a simple & straightforward menu.
Offer patrons access to over a million songs stored online, or block the display of artists, songs, or genres that aren't quite right for your location.
Kick your jukebox experience into high gear with thousands of music videos that play on one or more connected TVs. (HDMI cable required).
Change the default language preference from English to Spanish and tap into AMI's robust collection of Latin American music.
Tap into hundreds of thousands of fanatic AMI mobile app users. Our app not only allows patrons to play the jukebox, it also allows them to carry unused credits from venue to venue.
Use AMI Ad Manager to build and schedule your very own ads that display on the jukebox. Choose from one of our ready-made templates or upload an image you've already designed.
Get peace of mind with unbeatable first-in-class tech support.
AMI's friendly and knowledgeable staff can resolve many issues right over the phone. Or contact the service department at GAD for support.
With an easy-to-use interface, reliable hardware that won't leave you hanging, and revenue-boosting add-ons like music video, it's easy to see why the NGX Mini 3 is the right fit for your location.
MORE THAN JUST GREAT MUSIC
HD 18.5″ wide touchscreen display.
Illuminated frame and dynamic equalizer move to the beat of the music or can be set to the color and brightness of your liking.
Pascal 1,000 Watt, 2 Channel Amp System.
Solid-state hard drive pre-installed with selectable music genre collections to fit any type of location.
Core computer package includes hard drive, motherboard, power supply, and I/O controller.
Wired and IR wireless remote controls.
Credit card reader and CPI BA with 700 bill capacity.
AMI MEANS BUSINESS
AMI Ad Manager lets you transform the upper half of your NGX Mini 3 Jukebox into powerful digital signage. Whether you're promoting what's happening right now or what's coming up soon, there are hundreds of ways to put AMI Ad Manager to work for your business.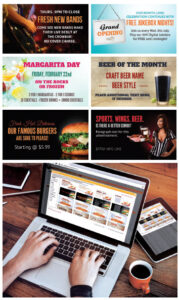 Promote your own products and services – advertise a rewards program, gift cards, seasonal discounts, upcoming events, and more.
Promote daily and nightly specials! With AMI Ad Manager, you can schedule promotions in advance by selecting the times and dates your ads will display on the jukebox. Best of all, you can create, update and schedule your ads right from your smartphone or tablet via amientertainment.net.
Use AMI Ad Manager in combination with Free Play Mode – a pay-by-the-hour service for venues that lets patrons play music free of charge. Schedule and promote "free jukebox nights" in lieu of karaoke or a DJ.
Build your online following – promote your Facebook, Twitter, and other social media pages using AMI Ad Manager's suite of social media templates.
AMI Ad Manager offers more than 1,700 custom templates to choose from – with everything from general announcements and seasonal promotions to food, wine, and beer lists.
WANT TO PUT YOUR PROMOTIONAL ADS ON TV?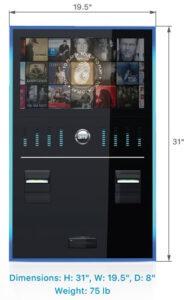 Simply connect your NGX Mini 3 to a television using an HDMI cable – or to multiple TVs using a splitter! Ads scheduled through AMI Ad Manager will appear on TVs connected to your jukebox – allowing you to provide not only a new form of revenue through music video, but also a powerful
digital signage solution!
GAD knows digital music. And – we have the latest NGX Mini 3 coming in to our warehouses for your bar, restaurant, or other digital music location.
As you see more customers returning to your establishment, they are demanding pay-and-play music options. From their smart phone, they can access the AMI app to select music and videos at your location. Consumers are savvy and want to enjoy their music where they choose to be. Let them! This adds no only to your atmosphere but also to your bottom line.