Unlock Promotional Potential – Arcade Games with Built-In Ad Features
https://gadvending.com/wp-content/uploads/2023/08/SPACE-INVADERS.jpg
600
791
GAD Vending
https://gadvending.com/wp-content/uploads/2023/08/SPACE-INVADERS.jpg
Arcade games benefit businesses in many ways – bringing in extra revenue, creating a sense of community, and allowing guests to escape into a world of fun. But did you know that some games include an advertising feature? Some of these games might even be sitting in your arcade room right now.
While it may not seem like a big deal since guests playing the games are already in your establishment, having this feature can boost business and allow you to promote events, specials, and more without having the cost of printing out flyers or banners. This also allows you to do quick, pop up promotions to keep people in your place.
Promote Future Events – Theme events and tournaments based around the game you're using to promote or get the message out about your upcoming trivia night.
Boost Your Social Media Followers – A unique way to promote your pages and entice guests to tag and share with friends & family.
Food & Drink Specials – Boost revenue in other areas by creating food & drink specials that will keep guests staying in your establishment for a longer time.
Pop Up Promotions – Pre program pop up promotions during band breaks or when you've noticed the night can turn slow (and people leave). This generates excitement to stay for "reverse happy hour", "Tuesday two-fers on apps", "Arcade Happy Hour" or "free play" on your AMI juke box.
Games With Advertising Functionality and How to Set Them Up:
BIG BUCK HD WILD
To unlock the advertising feature in Big Buck HD, you must first sign up for a CoinUp account. The CoinUp website will allow you to create, edit and change advertisements on the Big Buck cabinet screen. If you have questions about how to set this up, GAD can help.
*Note: Once advertisement creation has started, do not use the browser back button if you need to go back to a previous step. Use the Back button beneath the ad creation interface.
Details – Give the advertisement a name and start/end dates.
Graphics

– Upload the graphic(s) to display. Ensure the image(s) file adheres to the specified format and size constraints.

Game Machines

– Select which game units will display the advertisement. Only applicable game machines will be displayed in the list.

Once you have everything set, you've reviewed the advertisement settings, and you are satisfied, click Submit Advertisement

.
WORLD'S LARGEST PAC MAN & SPACE INVADERS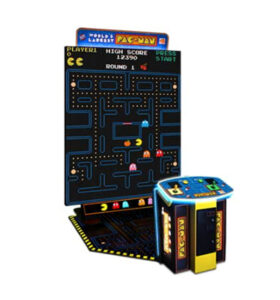 Space Invaders Frenzy and World's Largest Pac-Man have an advertising feature that can be played during the game's attract mode.  To use this feature correctly, please take note of the following steps and recommendations:
On your personal computer or laptop, upload 1 to 3 images via a USB drive that you would eventually like to have displayed on your Space Invaders screen.  Image files should be TGA, .PNG, or .JPG format type.
After you have your images picked out, sized, and uploaded onto your USB flash drive, you are now ready to upload the images into Space Invaders Frenzy.
***Important*** Make sure your flash drive is inserted when the game is in attract mode.  Do not insert the drive when the game is during boot-up or when it is in the test menu.
Open the coin door and find the service bracket that has the test menu and service buttons.  You will find a USB slot on this bracket to insert your flash drive.
Once your USB flash drive is inserted into the USB slot on the service control panel, you can then press the TEST button to access the main menu.
Select ADVERTISING from the main menu to access the upload feature.  You can select an ad slot for your image from this menu.
After you are in the AD SLOT MENU, you can select LOAD IMAGE, which generates a list of the file names of the image files that are on your USB drive. Navigate to the file name you would like to upload and select it.
When you select the image you would like to upload; you will be presented with a preview of the image, which you can accept or decline.  If you accept the image, you will be taken back to "AD SLOT MENU," allowing you to load a different image, adjust the ad brightness, preview the image again, clear your image or exit the menu.
PAC MAN BATTLE ROYAL CHOMPIONSHIP
Namco's Pac-Man Battle Royale Chompionship offers an advertising feature on the Deluxe cabinet. Follow the steps below to start advertising on your Deluxe Chompionship machine.
Images should be RGB color model and no bigger than 1280 x 720 pixels. Extra space will be black if the aspect ratio of the loaded image isn't the same as 1280 x 720. The files must be JPEGs and the file name must end in ".jpg".
If you have questions how to program your Pac Man Battle Royale that you purchased at GAD, give us a call. We are happy to help you with training and support documentation.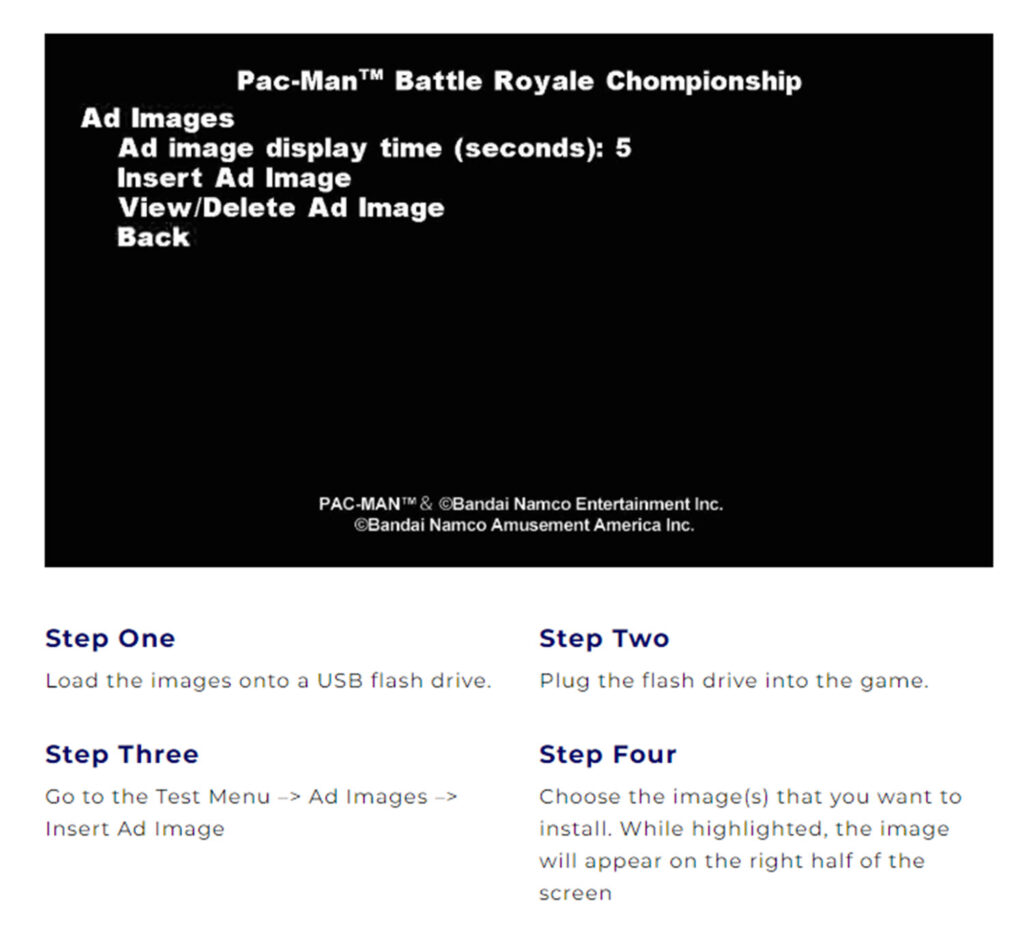 SKEE BALL GLOW
The Skee-Ball marquee is equipped with Bluetooth connectivity for use by the business owner. Use with the Bay Tek GO app, available for download on iOS and Android. This feature allows locations to program the scrolling marquees of each game to customized messages, such as birthday announcements and daily specials.
The N17 menu does not effectively change Bluetooth settings but shows scrolling messages and the status of the app settings if it has been used previously.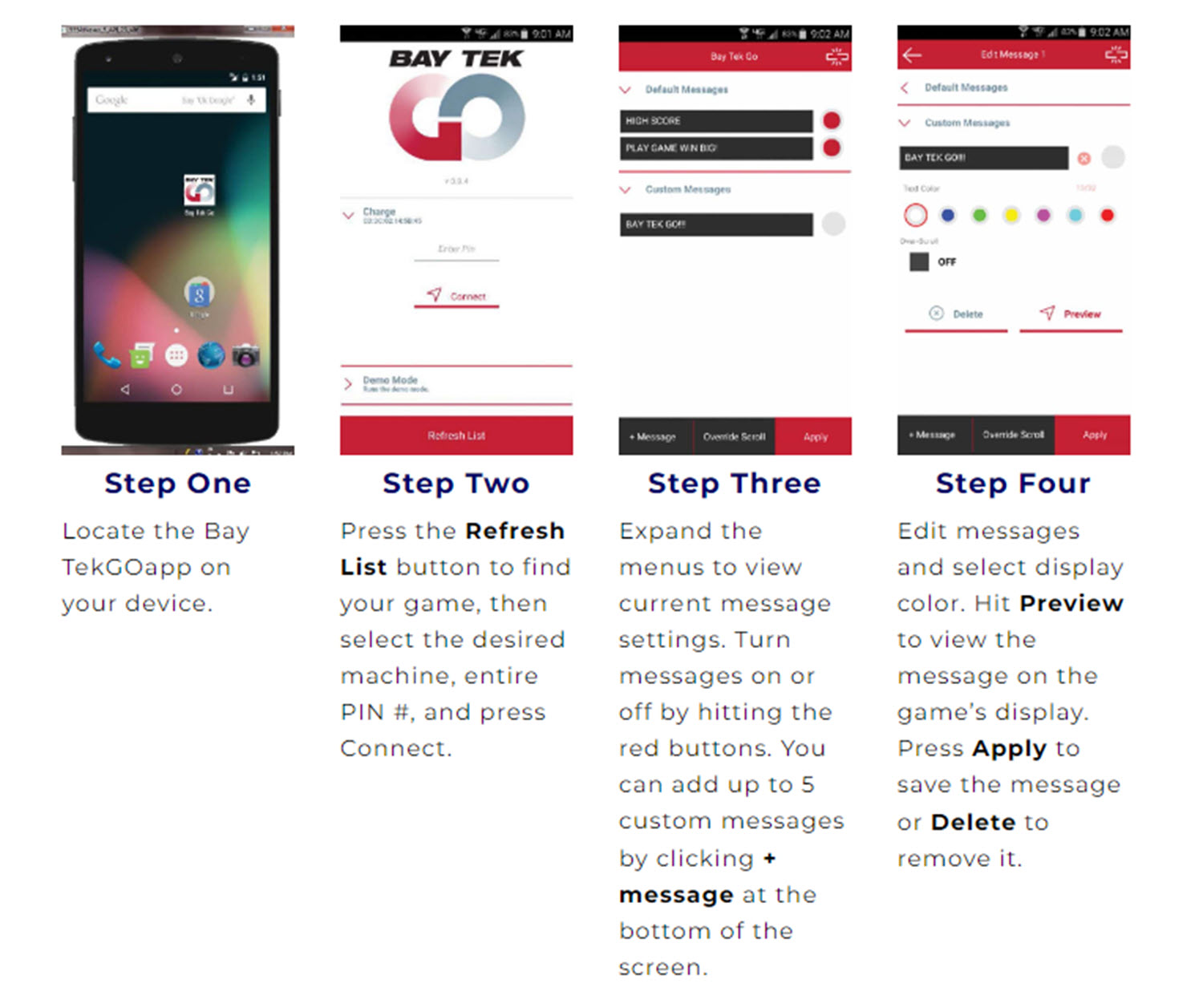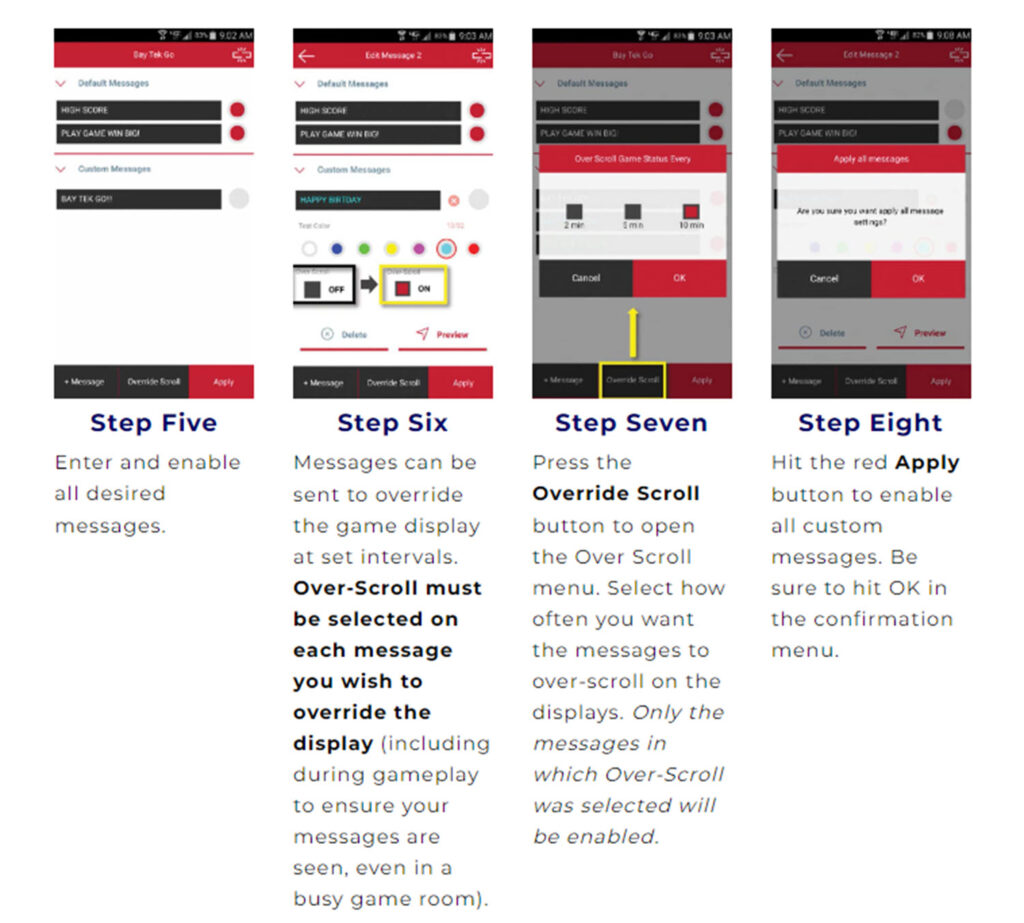 DON'T FORGET THE MUSIC
If you have an AMI Jukebox (and if not, GAD can help you get one), they are all compatible with the AMI Ad Manager Tool, which is a promotional tool that transforms your AMI products into robust digital signage systems. You can create, edit, and schedule ads from the palm of your hand using AMI's Co-Pilot app, or from a computer.
If you're not tech-savvy, the Manager Tool features over a thousand pre-made templates to choose from and an easy-to-use interface, taking just minutes for business owners or designated staff to build ads. GAD can help train you on how to use the Manager Tool features.
With over a thousand pre-made templates to choose from and an easy-to-use interface, it takes just minutes for installers, business owners, or designated staff to build ads.