Yes, we know Father's Day is Sunday. Yes, we have lots of games and pinball in stock – ready for pick up. Yes, we are happy to give you the all inclusive pricing over the phone before you make the trip to our office. Yes, before you call you can look at our new and used inventory list (online here).
GAD stocks pinball, digital darts, arcade games, commercial foosball and pool. Most of our games are sold new in box but we also have refurbished and demo models on sale.
Golden Tee PGA Tour – Preorder for July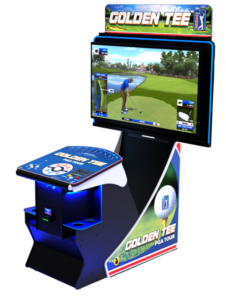 This is the newest of a long line of amazing Golden Tee games. Fun for the entire family, the new Golden Tee has loads of upgrades, new club choices and avatars. This game boasts over 80 Golden Tee fantasy courses plus 3 licensed PGA tour courses – TPC Sawgrass, TPC Boston and TPC Deere Run.
 All in one cabinet – no additional TV or stands to buy.
5″ touchscreen display.
Includes LED lighting, cupholders and a 55″ 4k commercial grade TV to enhance the audio/video experience.
Yearly subscription will provide year round content delivered through your internet.
Stern Pinball
Add a Stern Pinball game to your home game room or work break room.
The Mandalorian is the newest Stern Pinball following a long tradition created by Star Wars. And, Stern Pinball has history creating the original Star Wars pinball game, Star Wars Comic Book edition and now The Mandalorian.
If your dad is a rocker – Stern's legacy of heavy rock machines is how it's done. The newest Stern's Led Zeppelin machine is awesome.
Stern's current game catalog includes family appropriate games. TMNT. Stranger Things. Avengers Infinity Quest. Jurassic Park. Star Wars.
Digital Darts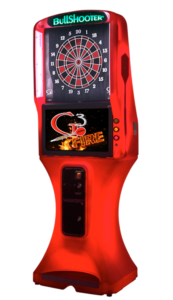 Get the family off the coach! At least for a game of darts!
Darts is a skill game, hand-eye coordination and team play all together.
The G3 Fire is an upgrade digital version of the old way to play darts.
Larger 24″ Monitor
Automatic Target Flip
Live Remote Play
Remote Leagues
GAD has lots of arcade games, pinball and darts in stock – ready for curbside pick-up or delivery. Call the office closest to you to find out more: