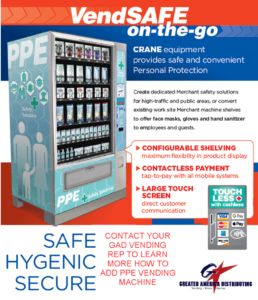 Make PPE convenient for your customers – whether in a break room or public area – people want and need PPE to continue to be out and about in the post COVID environment.
Offer essentials like disposable face masks, safety glasses, gloves, and hand sanitizer. Add contactless payment with a Crane tap and pay solution.
This Crane vending machine is already set with graphics and a configuration to add PPE to your vending line-up. Or create your own graphics, product mix and payment system. GAD know Crane Vending.