Today we can get you up to speed on those improvements thanks to the information passed along to me by Adam Wray of Glitchbit. This enhanced build will better fit into arcade (non-bar) locations, with a broader appeal, while still working for those venues that serve adult beverages. These improvements came along thanks to feedback that was heard at that show (as a note to any indie devs out there – that's a great reason to attend an industry trade show with your product, as you'll talk with potential buyers and might find out why they will – or will not – purchase your game) along with feedback obtained through location testing.
Let's start with the animated gif that was sent my way, then I'll break it down in case you don't catch it all: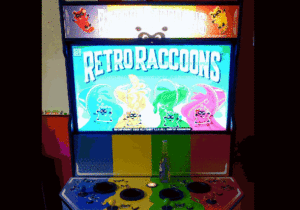 Here are all of those features in a handy bullet point list of this new cabinet design:
Drinks mode (for bars)
Cash mode (for non-bar arcades)
Higher splash guard
New cash door & cash acceptor vault
Improved control panel design with new art & controls layout
Custom liquid tray
New Handles
Wheels
Leg levelers
With all of that, the cabinet is still going to be "under $5k" on the price point and begins mass manufacturing for arcades to pick up soon. A precise date hasn't been given, but I would venture to guess that Retro Raccoons will be available before the summer is over.
If you have played the game already, what did you think about it? If not, what do you find appealing?