GAD gets asked these questions all the time:
What are the best games for my house? How do I measure the space I need? Can I get your games upstairs/downstairs? Do you sell to home users?
Well, yes, we sell to home users. And we know the answers to all these questions. But every home user is a bit different, so we'll leave this to a direct conversation!
What we will say in this article is some of our favorite home use games.
Because all these games are commercial grade, they are developed with the best in industry game play. This gives you the best in the new Internet apps gaming. And the best quality play fields, consoles and game play.
When these games are set up for home use – free play – the game acceptor devices are not necessary. And this can be a large portion of a commercial game expense.
DIGITAL DARTS
GAD is an authorized distributor for Arachnid Digital Darts. We stock Galaxy 3 Fire and Galaxy 3 Plus. We also have refurbished 2.5's available at various times.
The great part of digital darts is you can play to practice or play against your friends and family. When done, this console takes a small floor space and is a great game that anyone can play.
CLASSIC-CADE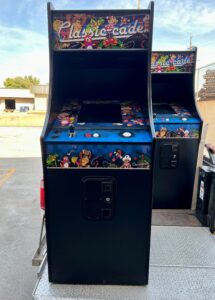 Our Classic-Cade is a 60+ classic game in one game! Available in either a cocktail table or stand up console.
The cocktail table is great for home use because two players can engage in games all night – or it is a table! Kids love the classic games and it helps their hand-eye coordination while keeping them engages.
GAD has these games in stock.
PINBALL
GAD stocks pinball of all types, for all age groups and all are available for home purchase.
Consider for the younger family Toy Story 4, Hot Wheels and Teenage Mutant Ninja Turtles. For the middle schoolers and high school age range, think Legends of Valhalla, Godzilla, The Mandalorian and Star Wars. For the heavy metal fan, we usually stock Guns 'n Roses, Led Zeppelin, and Rush. And for everyone – Elvira, James Bond 007, Jurassic Park and Cactus Canyon.
So many amazing pinball games to choose from, so little floorspace! Yes, you should choose wisely. Call GAD to find where to play your short list of games.
GOLDEN TEE PGA HOME EDITION
No doubt. Golden Tee has earned the right to be in every home game room in America! This is a great game of fun, skill, competition and always something new to play.
Golden Tee PGA Home Edition has all the best PGA courses in the world ready for you to experience. With plenty of avatars, equipment and player experiences it will capture the entire family!