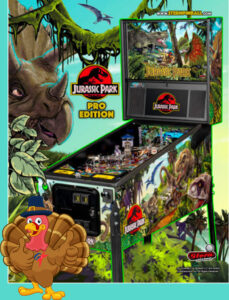 Want to just hang around and not have something to do this Thanksgiving weekend? Let the family just get stir crazy??
How about putting your home game room together this week? GAD has the games in stock to give you plenty of fun.
GAD has a wide variety of pinball for all ages.
Younger kids love Toy Story 4, TMNT, and Cactus Canyon.
Young, teenage kids are into Venom, Godzilla and Avengers.
Everyone has fun with digital darts, Classic-cade Arcade games and James Bond 007.
And, of course, choosing a game that is from your favorite band is always a good idea. In stock includes: Foo Fighters, and Iron Maiden.
If you are looking for game room set up ideas, read "What Should Be In Your Home Game Room". And "What Should You Add to Your Home Game Room?"
And the other question that is asked of us all the time – yes, we sell to home game rooms!