VENDING INNOVATION THROUGH TECHNOLOGY
What role does innovation play in the vending industry?
The vending industry is rapidly changing and Crane Merchandising Systems continues to adapt with it. Our portfolio is always improving with the extension of our product offerings. By enhancing our design, we are advancing the retail experience including full-motion video touch screens, interchangeable shelving for product flexibility, consumer-friendly delivery mechanism and green refrigeration. Our focus is on continuous improvement of quality and reliability.
Attract consumers utilizing branding and direct communication, then connect with them through a retail user interface and digital advertising. Increase sales by accepting all types of payment and utilize the data to drive suggested buys, sales or promotions.
Crane Merchandising Systems has changed with the industry, launching our MEDIA platform and our award winning coffee solutions. These new concepts offer an alternative to traditional vending, with new payment, 2 way connectivity solutions, and a robust management system.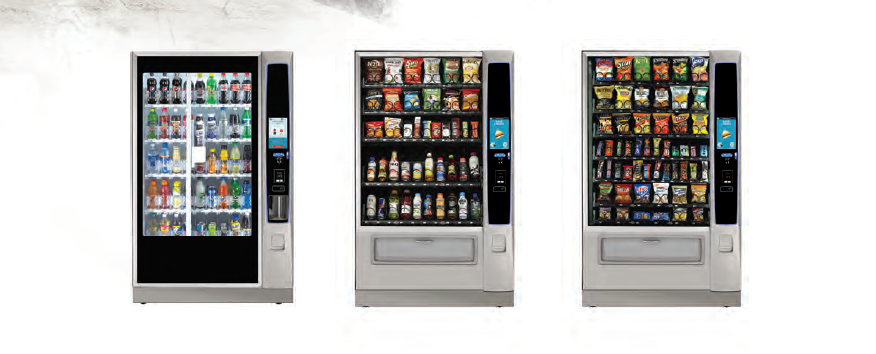 CRANE CONNECTED PLATFORM COMBINING CONNECTIVITY AND ENGAGEMENT
Why does a connected platform matter?
A connected platform revolutionizes the way operators manage their businesses and transforms the way consumers interact with their stores.
Performing over-the-air software updates, changing planograms and making price changes saves operators time and money by eliminating unnecessary trips to machines. Multiple cashless options, suggestive selling, product advertisements, custom storefronts and shopping cart features provide consumers with the modern retail shopping experience they expect.
Managing a store remotely and creating an engaging experience for the consumer is why more operators choose the Crane Connected Platform.
Why Choose Crane and Greater America Distributing Vending?
One Platform
Focus on Innovation and Connectivity
Superior User Experience and Interface
Global Company, Greater America Distributing Local Support
Sustainability is at the Core of the Business