What to get the gamer in your life for Valentine's Day? Pick them up a game at GAD!
With warehouses in Omaha, Kansas City and Des Moines – we got the Midwest covered. And, yes, we sell to home game rooms users. And, yes, this is the right gift for yourself.
Not sure what is the best option? Take a look at these, call us for suggestions, and arrange curbside pick-up.
Stern's Led Zeppelin Pinball Game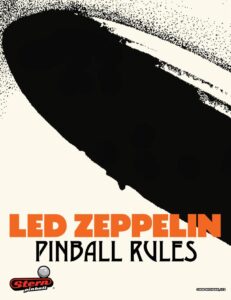 Need we say more? This game is the newest offering from Stern Pinball. And already has won CES Awards, critic acclaim and a named a GAD classic out of the box.
The Led Zeppelin game comes in three play versions, which is common for Stern pinball releases. Pro model, which is the most basic option, is usually found in public areas like bars, bowling alleys and game rooms. The other two models are Premium and Limited Edition. These models offer added features that give the play immersive experiences. For a full comparison and stock availability, our GAD reps are happy to help.
Of course, the biggest highlight with the Led Zeppelin pinball table is the fact that the band agreed to license their IP at all. Led Zeppelin likes to keep their song catalog to themselves. But Stern's goal of recreating a Led Zeppelin concert experience was too special to pass up. This table is complete with lights, music and even concert footage. Everything a Led Zeppelin fan could want in a pinball game.
While we could Ramble On about the innovative ruleset in the game, the Song Remains the Same for Stern's manufacturing capabilities and attention to detail and quality in hand assembling all of Stern's pinball machines, included in this first look video of Led Zeppelin LE's on the line!
G3 Fire Digital Darts Game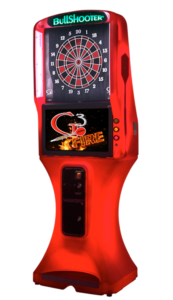 If that special someone is missing their Darts League with COVID, why not get them a G3 Fire Internet Connectivity game for home?
The G3 is great fun to play darts at home with the family. Lots of interactive play time. And, connect to the internet to join you remote family and friends for a rousing game of darts.
Large 24″ monitor
Enhanced player camera
Glowing Cabinet
Automatic target flip rotate between 15″ dart head and a 13″ dart head
Once you are connected to the world of G3 Fire, you can practice, play a game, join a remote league or compete worldwide – all from the comfort and safety of home.
Golden Tee 2021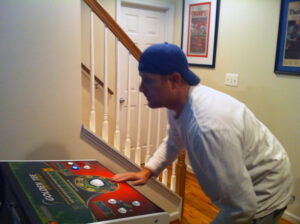 The Golden Tee Golfer in life missing their tee time? But Golden Tee for home is just as much fun!
Join the Golden Tee leagues. Keep track of your scores across your home machine and your favorite restaurant game. Play with the family and close friends. Play over the internet with your foursome.
Golden Tee is a proven fun, competitive game that people just can't get enough of. And, this is the game that keeps on changing. As new courses, equipment and competitions are revealed – all the updates are available to your game console.
Start 2021 with a Golden Tee game.
Classic-Cade Game Table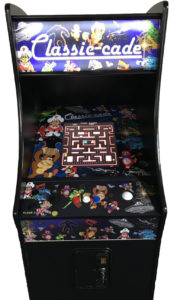 How about just getting your first arcade game – and getting all the classic games in one?
Over 60 amazing classic games like Pac Man, Ms. Pac Man, Frogger, Asteroids, Mario Bros., Space Invaders, Donkey Kong, Centipede, Galaga, Pong and so many more!
Play as one player. Play with multi players. Create tournaments, high score and so much more!
Classic-Cade is in stock in our Omaha, Des Moines and Kansas City offices. We have both the cocktail game table and upright versions available for curbside pick-up.
Stern Pinball Stranger Things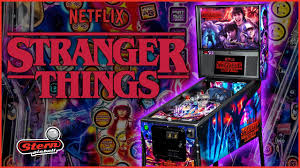 What is better for your honey than Stranger Things? We meant the pinball game.
The Stranger Things Pinball game takes you into the Upside Down for an immersive experience that extends the love of the hit TV show.
Experience the terrifying forces in Hawkins, Indiana that turn this small town "upside down" with supernatural elements, strange sightings, and government secrets. Stranger Things pinball machines will immerse players in a search to unravel the extraordinary mysteries and secret government experiments taking place at the Hawkins National Laboratory. The gameplay focuses on unlocking the hidden meanings of supernatural events occurring in and around the town, including the appearance of a girl known as "Eleven" with telekinetic abilities. The ball is wild as Mike, Lucas, Dustin, Will, Joyce, and Police Chief Jim Hopper help Eleven close the dimensional gate.
"Stranger Things is one of the most successful shows of all time, connecting with people around the world and across generations. This game features action, mystery, suspense, and humor; Stranger Things is a perfect fit for pinball," said Gary Stern, Chairman and CEO of Stern Pinball, Inc.
The Premium and Limited Edition models feature a first ever video projector that displays images and animations directly on the playfield, creating dramatic interactions with gameplay action. The center of the playfield features a unique ramp that doubles as a screen and leads the player into a direct battle with the Demogorgon. These models also feature a new Eleven themed "telekinetic" magnetic ball lock.
The Pro, Premium, and Limited Edition models all feature distinct hand-drawn art in addition to the custom sculpted, interactive Demogorgon bash toy, guarded by drop targets and a rotating ramp. All models include two hideout ball scoops, a Demodog spinner, three custom ramps, and game rules that will transport players into the Upside Down.
The Limited Edition model is limited to 500 units globally.  The LE model includes additional unique features such as an exclusive mirrored backglass, exclusive custom themed cabinet artwork, a custom autographed bottom arch, exclusive custom art blades, anti-reflection pinball glass, a shaker motor, and a sequentially numbered plaque.
What is this going to cost me?
New pinball and arcade games vary in price greatly. The manufacturer of our new games set the "Manufacturer Suggested Retail (MSRP)" that we are required to stay within by contract.
Price also can include – shipping, delivery, and sales tax. Before you buy, our sales team is always happy to quote a price on any of our pinball games – (402) 553-2812.
Call us. We are happy to provide you with options within your budget. Our range of arcade games and pinball machines give you lots of options. Plus we have new in the box and the occasional used (certified by our service team for playability) game available for curbside pick-up at one of our Midwest offices.