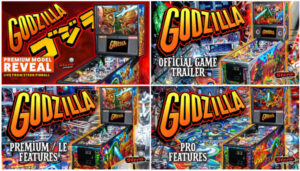 The King has arrived!  Toho International, Inc. and Stern Pinball announced a new line of pinball machines based on the iconic King of the Monsters, Godzilla! And the hype is real.
The game trailer premiered directly on Toho's official YouTube channel with the press and media exposure train not slowing down with features on The Nerdist, HYPEBEAST, Collider, SuperHeroHype, The Pop Insider, Movieweb, ShackNews, JoBlo, License Global, Ausretrogamer, Hardcore Gamer, Yahoo!, and a deep dive by This Week in Pinball to name a few.
The official reveal stream with Dead Flip and the game team was mirror broadcast by the world famous streamer, Shroud on his Twitch channel https://www.twitch.tv/shroud (collective following base of over 20 million followers across all social media platforms!). This live stream event had over 600,000 live views between both platforms reaching a massive new audience of eyeballs.
Visit the official Godzilla game page for full details on this action-packed pinball experience including the official game trailer, Pro model game features, and Premium/LE model game features!  You can also check out the reveal stream on the Pro model with Dead Flip and Chicago Belles & Chimes here!
If you are interested in owning a Stern Pinball Godzilla game in Nebraska, Iowa, South Dakota or Kansas City – check in with your local GAD office. We have a limited number on order and available for commercial or home pre-purchase.