As people continue to move back to work-from-office, they are demanding cleanliness and safety. Facility managers need to change the common coffee station from shared condiments and coffee pots to individual coffee machines with maximum flavor and minimal touch. Crane vending through Greater America Distributing can solve this thorough a variety of solutions.
CONNECTING THE WORLD TO COFFEE
Consistently delicious coffee doesn't happen by accident. It takes experience to farm quality beans. It takes experience to properly harvest, blend and roast them. And it takes experience to develop a machine with the ability to release their optimal flavor in every single cup.
At Crane Merchandising Systems we have more than 90 years experience designing premium coffee machines that deliver the taste profile you would expect from the best cafe's around the world.
Dependable engineering, intuitive user interfaces and amazing drink quality are the reasons customers around the globe choose our premium coffee machines. Our goal is to connect the world to coffee – one exquisite cup at a time.
FOUR MACHINES ONE PLATFORM
All Crane coffee machines have 2-way connectivity and screens to remotely keep the menu, advertising and promotions up to date as well as monitoring usage, alerts & maintenance requirements. Our quality and consistency is in simplicity; all machines use the same components throughout our range.
Greater America Distributing is an authorized dealer for Crane Vending. Sales and service of equipment are available at any of our three Midwest offices.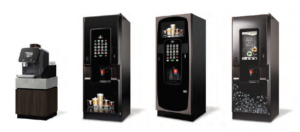 Why Choose Crane and Greater America Distributing Vending?
One Platform
Focus on Innovation and Connectivity
Superior User Experience and Interface
Global Company, Greater America Distributing Local Support
Sustainability is at the Core of the Business