NEW PINBALL GETS A FREE SHAKER MOTOR
100's of pinball games to choose from! We sell to both residential and commercial customers from our warehouses in Omaha, Des Moines and Kansas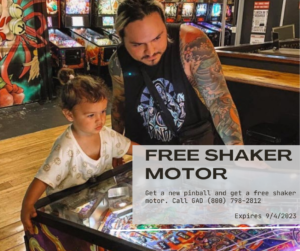 City. You just need to call us and let us know what game you are seeking, where its going and how you want to get your game.
GAD prices each game based on the game, edition and sales taxes. Commercial customers will get a money acceptor quote. Residential customers can opt for free play or pay for a money acceptor.
Various of our pinball games are internet ready. GAD can help you with the interconnect and answer questions on how the scoring, competitive play and how updates work.
Delivery options:
Free curbside pick up
Free delivery and installation in certain areas.
$350 continental US (curbside).
GAD is an authorized dealer for Stern, American Pinball, Jersey Jack and Chicago Gaming.
Check out our August inventory. Call us for current available games.
GAD offers phone support to all our customers during installation and beyond. GAD stocks parts and our service personnel can assist with code update questions.