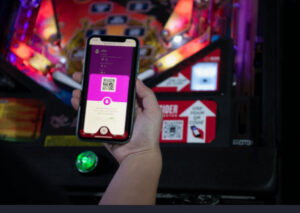 Stern Pinball's Insider Connected program is an ever expanding, online game connect portal. Allows you to engage with your Stern Pinball in a whole new way. Discover new ways to play. Unlock exclusive content. Upgrade existing pinball games or buy new ones with software already to connect.
Show off your achievements on your profile page. Get Stern exclusives. Access tournaments. Get sneak peaks at special accessories. And, get ready for special games and prizes coming soon.
All your Stern Insider Connected available on a desktop or mobile app. Use the pinball game's QR code to link your personal profile to the game you are playing.
One unique feature already to use in the Stern app – see game fields like never before. Go even deeper into each game with the game guides. In the app, you'll find detailed information on the playfield features, tutorials, and how to engage each game. (see example).
"Somewhere over the rainbow, way up high. There's a land that I heard of once in a lullaby." Press START on WOZ today and start earning Scorbit Achievements!
The Wizard of Oz, Dialed In, The Hobbit, Willy Wonka & the Chocolate Factory, and Guns N' Roses pinball are all online enabled with the most recent code updates. Pirates of the Caribbean is soon to follow.
Experience seamless code updates, online leaderboards, Achievements and more. No added costs or subscription fees for
JJP owners.