Spending more family time sounded like a great idea – 2 years ago. But as COVID drags on, it's time to up your game night!
Break Up the Boredom and Up Your Game Night
While video games on the TV  can be fun, they generally don't engage the entire family. Why not change your gaming to match your family dynamic?
Here are a few suggestions:
Table Classic-Cade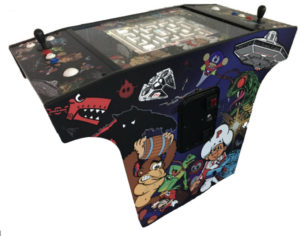 This is the perfect family game for all ages, genders and skill levels. Included in the Classic-Cade are over 60 classic games. And – you can set to play solo, one-against-one or as a team. Gathering around the Classic-Cade table version is fun for the whole family!
Games include: Pac Man, Donkey Kong, Space Invaders, Mario Bros, Centipede, Galaga, Pong and so many more!
The Classic-Cade comes available in a table or console version. Choose the configuration right for your game room.
Pinball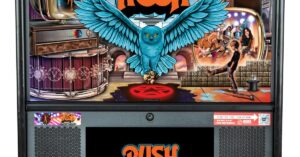 Pinball is the ultimate, classic game.
Choose from titles like Star Wars Comic Pin, Jurassic Park Pin and TMNT for younger audiences. Check out Godzilla, The Mandalorian and Avengers for a junior high school age audience. And, consider Rush, Led Zeppelin and Guns 'N Roses  for teenagers. Of course, for adults just pick your favorite band, movie or comic hero! We have pinball to satisfy all your family game fun.
Ask us about connecting your Pinball game to the internet. Stern's new Insider Connected allows games to be interconnected for play across the internet, new features and chances to win fun prizes. Jersey Jack pinball is also connected for tournament play or cross play with your friends.
Golden Tee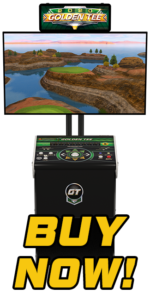 Golden Tee Home Edition was designed after the worldwide hit game Golden Tee. It is built for home and made for free play. 
The Home Edition comes programmed with unique and imaginative courses, game play with real time rivals like John Daly, and lots of customization options. 
Stay connected with friends and family remotely! With an internet connection – not only can you compete in online tournaments, but you can create your own private contests. Pick the players—between two and 100(!!!)—select the course, the stakes (yes, you can play for money if your state allows it) and control everything about this specific content. Play your buddy in Albuquerque from the comfort of your man cave. You can create it all on the GT Caddy, our free mobile app available for the Apple and Android device.
Try these games with your family –
Closest-to-the-pin: Get as close to the pin as you possibly can in this fast-paced 9-hole game. It's the perfect game mode for groups and parties, or players in search of a fun, quick fix.
Skins: A Home Edition Exclusive! Play your buddies for bragging rights one hole at a time. Skins, played with 2 through 4 players, is not about total score, it's about beating your opponents on as many of the 18 holes as you possibly can!
Darts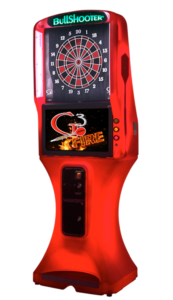 Think of darts as a board tacked on the wall? How the game has changed – and improved! Electronic darts has upped the game with electronic scoring, tracking player ratings, and internet tournaments. Play solo, solo in internet tournaments, as a family or remote against your friends!
Our new favorite electronic darts game is the G3 Galaxy Fire featuring:
Larger 24" Monitor
Automatic Target Flip
Live Remote Play
Remote Leagues
Glowing Cabinet
Made in the USA
Need help configuring the best home game room? Or just want a single, quick game to entertain the family this week? Call us! GAD knows games (and we love to play!) We'll check our in stock inventory. And help you arrange your pick-up, delivery or shipping.
Already have a game at home that's busted? GAD Vending techs can help you trouble shoot the problem, and we have a large stock of parts.
GAD Vending sells games to homes and commercial operations (bars, restaurants, hotels, apartment complexes) Nebraska, Iowa, Missouri, Kansas and South Dakota.