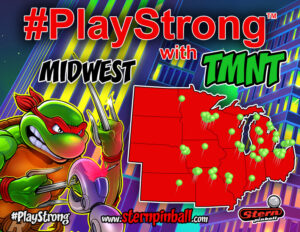 Ready to see what all the hype is about for our new Teenage Mutant Ninja Turtles pinball release? Your local arcades and pinball showrooms just got the brand new game from Stern Pinball.
These have been a difficult couple of months for small businesses so every quarter counts. Contact your local arcade, distributor or dealer for availability, hours, and safety precautions so you can help them continue to #PlayStrong!
Those of you in the U.S. can also find your closest location with our Stern Pinball Locator (https://sternpinball.com/pinball-locator/) powered by PinballMap.com.
IA – The Operating Room (West Des Moines)
KS – 403 Club
KS – Industry Old Town
MO – Fric & Frac
MO – Levelup
MO – Outpost Bar & Grill
MO – Silverball
MO – Up-Down KC
NE – Big John's Billiards
NE – DJ's Dugout
NE – Dundee's Place