Could March be any more fun? Basketball just doesn't have much when compared to what is coming from pinball creators.
STERN ANNOUNCES NEW PINBALL
GAD already has 2 LE's on the way. Plus we'll have Premium and Pro versions as well.
Thanks Stern for another kick ass heavy metal machine.
JERSEY JACK
Coming soon to Jersey Jack is another great game – not sure what yet but the art work gives us a few guesses.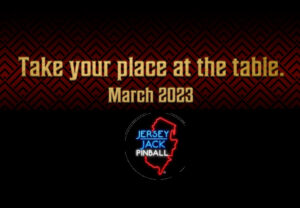 AMERICAN PINBALL 
This is an exciting new direction for American Pinball. Galactic Tank Force is going to be a new genre that we are excited to play.
We don't know much yet other than it's an original theme, plus Dennis Nordman is on design and art is by Christopher Franchi.
From the teaser material it looks like a spoofy, campy sci-fi romp perfect for family play. More coming from American pinball about this game for sure.