Jersey Jack Pinball and Greater America Distributing announce a new distributorship agreement.
This new distribution partnership brings Greater America Distributing a new catalog of pinball games for the benefit of customers in Nebraska, Iowa, Kansas and Missouri. GAD home game room customers are excited to have more games to choose from.
GAD has a full service support and parts department. Customers can call for parts at curbside pick-up or mailed. Some markets are supported with full service repair services. Call to determine the problem and fix that is best for you.
About Greater America Distributing
Greater America Distributing (GAD) is an industry leading distributor in the great Midwest. An innovative sale organization in partnership with our business customers to maximize floor space profits.
GAD Story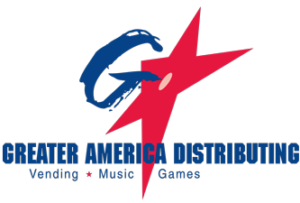 GAD distributes and services entertainment solutions for your business and home for 30 years and counting. GAD sells and inventories pinball machines, claw games, Golden Tee Live, electronic darts, digital jukeboxes plus many other games. We sell and support these games with parts, repair services and technical support.
GAD represents all the leading brands of vending equipment. Support for these quality vending machines includes sales, parts, repair services, and technical support. Our sales personnel have many years of experience with all types of vending equipment including snacks, refrigerated combos, cold drinks, and coffee machines. We design micro markets and break rooms to maximize employee comfort and/or for public use.
All our equipment is supported with the latest cash and cashless payment systems. And, GAD is a Midwest expert in ATM machine placement and service.
GAD Knows Sales and Service
About Jersey Jack Pinball
Jersey Jack Pinball (JJP) is the industry leader in quality and technical innovation, designing groundbreaking pinball machines made for players, collectors and newcomers to the game. Made in America, our head-turning machines are crafted by artisans and innovators with a nod to the game's rich history and an eye towards the future.
Easy to play – difficult to master, our games feature several industry firsts, including the use of LCD screens, LED lighting, rich audio, and interactive technology designed to provide an enhanced player experience, engage hardcore players and draw new players to the game of pinball.
Jersey Jack Pinball Story
Jersey Jack Pinball began when veteran amusement industry figure Jack Guarnieri saw that the time was right for premium, no-compromise new pinball machines. Drawing upon more than 36 years in the industry, first servicing electro-mechanical pinball machines, later developing amusement centers, designing games, and pioneering online sales, Jack set out to create what he believed to be, the greatest pinball machines.
Encouraged by customers and friends, he created the company and began assembling people with a deep understanding of the craft and passion for the game, including industry legends such as designer Pat Lawlor, artist John Youssi, and programmers Ted Estes and Keith Johnson.
Soon, people began to notice and the rest is history.
Craftsmanship and Innovation
Once you play a JJP game, you understand the level of attention to detail, innovation and mechanical magic captured in our machines.
Jersey Jack Pinball machines are playable works of art that are built to last and mark unique milestones in the history of the game, providing owners an exceptional value from day one and for years to come.
We're committed to creating machines that feature the qualities valued by the game's most discerning players and collectors, and to advancing the category through innovation and accessibility, time and again proving that pinball is a game for the ages.