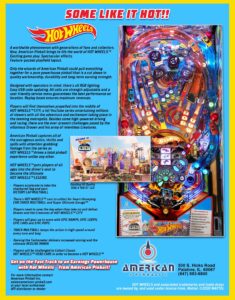 Hot Wheels by American Pinball machine for sale.  GAD is pleased to be an authorized distributor.
Please contact GAD for upgrade options: Interior Art, Shaker Motor & Magic Glass!
Complementing the exciting gameplay experience and immersive theme, cabinet features include real back glass, custom music, a 15″ full color LCD with 1366×768 resolution, 6 powerful stereo speakers, plus an 8″ cabinet subwoofer.
Get your own American Hotwheels Pinball at GAD for arcade, work or home!