Valley-Dynamo has done it again.  Introducing Jet-Pong, the electronic coin-operated version of the novelty game Beer-Pong. Real Tavern Ready Fun!
Nothing virtual about it. Jet-Pong is hands on, go-for-it fun for multiple players (or just one). The rules are few, the object is simple and anyone can play!
This innovative table top game allows for 1 or 2 player modes and features our patented ball return Aerr Technology.  This game also features, HMI Scoring Screens, Video Display Advertising Screen, Custom LED Lighting, Matrix LED Playfield, 200 Watt Speaker system, Custom Sounds for Scoring and Attract Modes, Built-in Wireless, and meets the local, city and state liquor license guidelines allowing it to be used in bars, restaurants, resorts, cruise ships, college campuses, FEC's and barcades.
And, GAD has preordered this game! Delivery expected in August – and orders being taken now. 
Jet-Pong does not require the use of liquids, of any kind, allowing this game to function without the mess, as well as be one of the top money earners in any establishment.
How it works: 
Ball pops up to allow the player to conveniently pick and toss the ball into one of 10 red cups
Balls returned automatically using Valley-Dynamo patented Aerr technology
Dual displays near the players show the score, number of balls left and cups yet to be made
LEDs under cups shut off when a cup is made
Music and cheering play when a cup is made
One and two player modes
Playing area is tournament regulation size
Table Specifications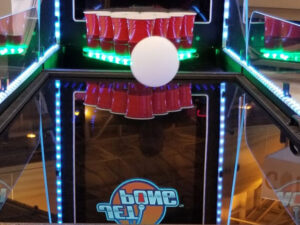 Jet-Pong is available is both 120V and 220V and is UL/ULC approved.
L: 104" / 264 cm
W: 24" / 61 cm
H: 63" / 160 cm
Weight: 500 lbs / 227 kg