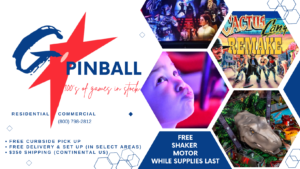 GAD has a solid reputation of stocking a large variety of pinball games, darts, Golden Tee and commercial quality arcade games. With multiple warehouses across the Midwest, we have commercial and residential customers coming for all over for pick-up. GAD will deliver and set up within the geographic areas around Omaha and Des Moines. For our customers outside driving distance, we offer a $350 flat rate shipping fee that arrives curbside. If you prefer inside delivery, GAD can assist you in making recommendations.
Today, GAD has one of our best selections of pinball games we've ever assembled.
From Stern, titles include James Bond, Iron Maiden, TMNT, Star Wars Home Editions, Godzilla and the new Foo Fighters. Inbound, we have Avengers and Venom on order (available for pre-sale). These games are available in a variety of game configurations. Call us for current stock of Pro, Premium and Anniversary editions.
From Jersey Jack, we have both Guns 'n Roses and Toy Story LE. Plus we have Cactus Canyon SE and Pulp Fiction SE from Chicago Gaming. American Pinball offerings include Houdini and Oktoberfest.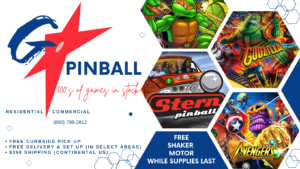 If your game room is looking for a complete makeover, we'd be remiss not to mention that we stock Golden Tee PGA commercial and home versions, Arachnid digital darts and a variety of commercial arcade games.
Call us to find out firm pricing that includes the game, delivery and tax. We sell to both home and commercial business'.