Looking for new arcade games? Have a business with excess floor space in Nebraska, Iowa, or Kansas City? Lots of family foot traffic? Wanting to establish a new revenue source?
GAD Vending is an authorized dealer for Raw Thrills Arcade games. GAD Vending is a stocking dealer, sales, and parts and service.
Raw Thrills Arcade Games are designed for commercial game rooms, bars and restaurants. GAD Vending sells commercially but also GAD is open to the public. Arcade games are stocked at GAD Vending locations and see our inventory for immediately available games.
Nerf Arcade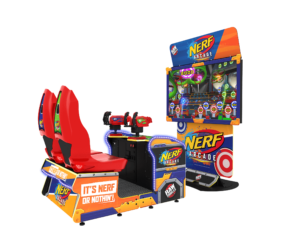 Nerf™ Arcade is a high-energy, fast-paced game that is exciting for kids of all ages and family-friendly. Players grab hold of two oversized NERF Blasters and shoot as many targets as possible to reach a high score.
Kids of all ages recognize Nerf as fun!
GAME FEATURES:
4 Exciting Levels
Online Leaderboards
Teenage Mutant Ninja Turtles: Turtles in Time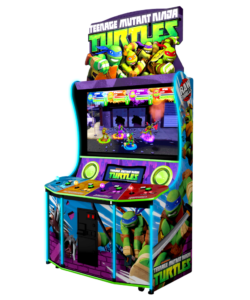 Teenage Mutant Ninja Turtles™ by Raw Thrills is a completely new 4 player action/adventure amusement game inspired by the arcade classic "Teenage Mutant Ninja Turtles: Turtles in Time" and based on the current hit animated series by Nickelodeon.
Raw Thrills has re-imagined the action brawler genre with new level creation, game play difficulty, pacing, and approach-ability have been completely updated for modern game players. The game's presentation is top notch featuring the 3-D models from the hit animated TV show as well as the A-list voice talent like Seth Green, Sean Astin, Gilbert Gottfried and more. The cabinet features a large 55" HD screen, illuminated LED buttons & trim, attractive marquee, and 4 player terminals in a compact footprint.
This iconic brand spans multiple generations of game players and is sure to appeal to kids as well as their parents.
Available in a 55″ deluxe cabinet.
Super Bikes 3
Raw Thrills introduces the latest iteration of the highest-earning motorcycle racing franchise ever: Super Bikes 3™. Redesigned from the ground up, Super Bikes 3™ features all-new cabinetry with a bolder, more aggressive look. Featuring 8 all-new tracks and 8 tricked-out bikes, Super Bikes 3™ will refresh locations and supercharge income.
GAME FEATURES:
Cabinet lighting synchronized with in-game actions
Cutting edge graphics and sound
Online Leaderboards