Before home TV gaming consoles and PCs kept gamers playing in the comfort of their own homes, there used to be long nights by the arcade cabinet located at your local arcade, amusement park, bar or restaurant. Pouring quarter after quarter in, see if you could beat your friend's high score; it was all exhilarating. Not only was the experience one of a kind, but the games you could play were unlike anything players had seen up to that point. Remember hours with Pac-Man? Galaga? Millipede?
Gone are those days of  one game, on one console or table. In the early development of arcade games, the hardware to run the game was the full console.
Want to relive those great games? At home? At your favorite establishment? Classic-cade is the answer to your need for fun, retro arcade games. With over 60 games available in two styles, no gamer should be without.
Classic-cade Game List: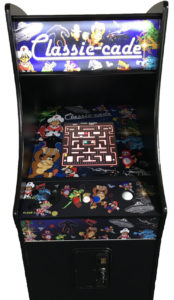 Ms Pacman
Galaga
Frogger
Donkey Kong
Donkey Kong Jr
Donkey Kong 3
Galaxian
Dig Dug
Crush Roller
Mr. Do
Space Invaders
Pacman
Galaga 3
Gyruss
Tank Battalion
1942
Ladybug
Burger Time
Mappy
Centipede *
Millipede *
Jr Pacman
Pengo
Phoenix
Time Pilot
Super Cobra
Hustler
Space Panic
Super Breakout *
New Rally X
Arkanoid *
Qix
Juno Frist
Xevious
Mr. Do's Castle
Moon Cresta
Pinball Action
Scamble
Super Pacman
Bomb Jack
Shao-Lin's Road
King and Balloon
1943
Van-Van Car
Pacman Plus
Dig Dug 2
Amidar
Zaxxon
Pooyan
Pleiads
Gun Smoke
The End
1943 Kai
Jumping Jack
Congo Bongo
and more….
(*) Trackball Game
GAD Vending stocks the Classic-cade for both commercial and residential gamers. With three warehouses in the Midwest, call us to arrange pick up or delivery today!