Replacing Break Rooms with Game Rooms
https://gadvending.com/wp-content/uploads/2020/06/foosball-scaled.jpeg
2560
1709
GAD Vending
https://gadvending.com/wp-content/uploads/2020/06/foosball-scaled.jpeg
Keep your company ahead of the competition by replacing a tradition break room with a game room
Modern businesses ask themselves whether employee game rooms suit their office space. Many people might dismiss the idea of employee break rooms as a frivolous perk. Still, a lounge space can be a critical part of an optimally performing office design while enhancing company culture. Employee game rooms are a staple of the world's top companies because of their team-building effectiveness, value as recruitment tools, and serious scientific literature explaining their health benefits.
GAD can help you blend the vending machine needs with the gaming machines. Ask us how!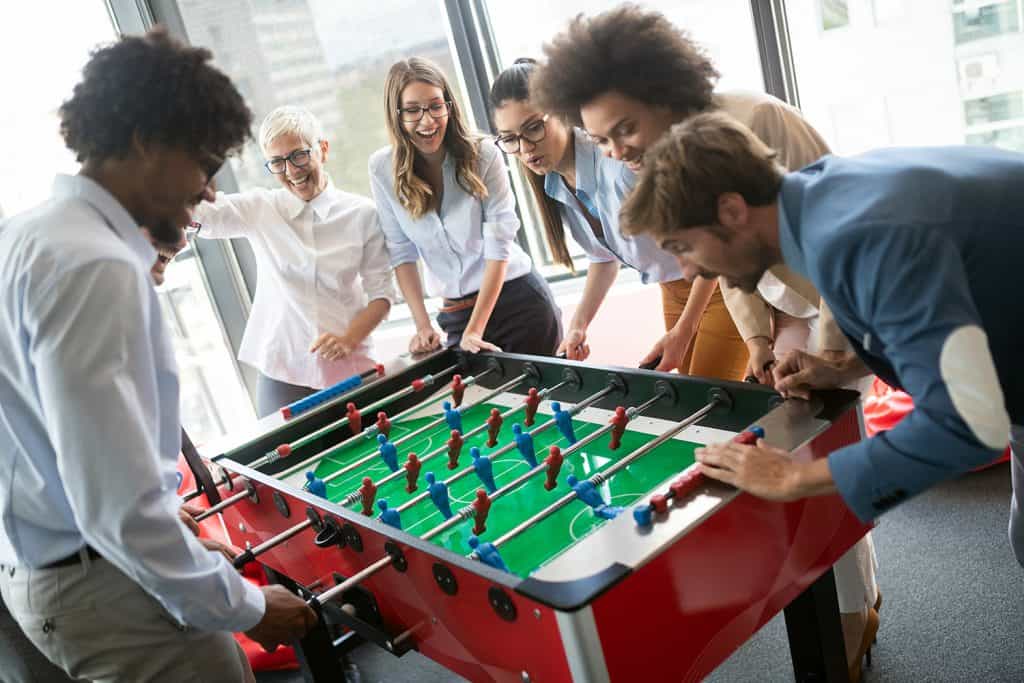 Who's Ahead of the Curve?
Before we get into the benefits of employee game rooms, let's look at some top companies that have already figured out that game rooms are great for business. Industry leaders like Google, Dropbox, Airbnb, Adobe, Intuit, Quicken Loans, and Boston Consulting Group have dedicated spaces where employees can get together in a fun environment to recharge while collaborating across departments.
It's no coincidence that most companies above were also on the Top 100 Companies to Work For. These industry leaders understand that a business must offer the best working environment when competing for the best talent.
Game Rooms Build Strong Teams
Yes, employees who can have fun at work are more committed and have much higher levels of creativity, but companies with office games experience even more benefits. Game rooms can bring employees together who might not usually interact and improve employee morale. This interdepartmental socializing is the key to building a great corporate culture. A recent post on The Benefits Guide discusses employee engagement's benefits. "Game rooms give your employees a place to escape the daily grind and decompress. Workplaces can be stressful. Between work stress and personal issues, your employee's morale and productivity may suffer."
The benefits of shared breaks where employees interact in a non-work context extend beyond morale. According to the Harvard Business Review, a team's energy and engagement outside formal meetings were the most accurate predictors of productivity. This discovery was made in a series of studies across various industries, including post-op wards in hospitals, innovation teams, customer-facing teams in financial institutions, call center teams, and others.
The Harvard Business Review found good communication the most critical predictor of a team's success. Specifically, they discovered that communication mattered more than all other factors, including personality, individual intelligence, and skill combined. They found nothing creates a stronger, more effective team than positive engagement outside formal meetings. That's how employee game rooms can help you accomplish more than standard meeting rooms.
Benefits for Employee Health and Wellness
From a business perspective, employee game rooms are enormously beneficial, but many people might not realize they also have profound health benefits. Whether it's a newly formed team of co-workers or a group that needs a productivity boost, it seems bringing games into work is the way to go.
Studies by Brigham Young University professors found that newly formed work teams experienced a 20% increase in task productivity after playing video games together for just 45 minutes.
Use the information you've gathered about your employees from wellness program or employee satisfaction surveys to learn what your employees want. Consider your employees' most significant sources of workplace stress and how this room could help alleviate those pain points.
Get Up and Move
So, the science is precise: arcade machines have profound benefits for your employees' mental sharpness, attention, and sense of well-being, but those aren't the only upsides of game rooms. Games like ping pong, foosball, and billiards also get your employees up and moving, which doctors say is critical to their physical health.
According to the Mayo Clinic, extended sitting, like at a desk or in front of a computer, can be surprisingly harmful. Doctors analyzed 13 studies measuring sitting time and activity levels. They found that employees who sat for longer than eight hours a day without physical activity faced a risk of dying, similar to the dangers of death observed in patients who were obese or daily smokers.
What Games Does Your Game Room Need?
Although board games and puzzles are used at some companies, they can be a bit more time-consuming. Also, with pen and paper or tabletop games, your employees don't get the mental benefits of video arcade machines or the physical benefits of interactive games. The most popular options tend to be physically and mentally engaging games that can be played in shorter bursts, like arcade games, pool tables, ping pong tables, and foosball tables. These games can all be played in 5 to 15 minutes and match the benefits observed in the scientific literature.
Between their recruitment value, massive impact on team-building and communication, mental health benefits, and physical health preservation, it's clear that employee game rooms are a necessary part of any company built for the future.
And, GAD carries the best-in-class vending. With updated digital menus, phone payment systems, bold graphics and integrated food/beverage options – GAD can help you create a world class employee break area.