Own a bar, restaurant, arcade or lounge? Looking for better ways to engage your customers? Games with natural social distancing and easy to clean? Or just want the best digital dart game for your home? New Digital Darts bring this all-time favorite game into 2021.
The newest digital darts give you expanded player benefits thru the internet. Allows players to remote play, join tournaments or just play a local game with friends. Individual score tracking is available across machines. And players can enjoy worldwide rankings, statistics and competitions – from home and their favorite social establishment.
Darts do require space – but this traditional games gives you natural socially distancing. Many serious players bring their own darts. Or you can provide (or sell) disposable darts for maximum cleanliness.
One of the premier digital dart games is the Arachnid G3 Fire coin operated dart game. The G3 Fire is a revolutionary dart machine – and here's how!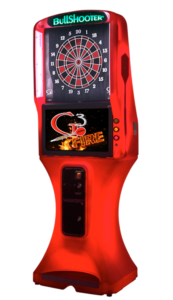 Larger 24" monitor for easier play.
Enhanced camera for better scoring.
Automatic target flip.
New games to keep the players engaged.
Live, remote play available with internet access.
Supports standard and remote leagues. (Printable brochure.)
Glowing, red, attention getting cabinet.
Looking to get a new digital dart game in NE, IA, MO or KS? GAD Vending stocks new and refurbished dart games at our warehouses. Call us to arrange for your new games today!