Teased back at the beginning of January, Incredible Technologies recently issued a press release, a new trailer, and a new cabinet design for their flagship game title, Golden Tee. The new title is known as Golden Tee PGA Tour, which sports an official PGA license for the first time in the franchise's history. With the new updates, let's take a look at what this new arcade game has to offer.
First the cabinet. It was 2007 that saw the introduction of the "Showcase Pedestal" concept, something that has become something of a norm for modern arcade designs throughout the 2010s, even occasionally being adapted and applied to Deluxe games like Nerf Arcade. This new game maintains some of the classic GT pedestal ideas while upgrading it with a sharper look enhanced by blue LEDs behind the monitor mount and underneath the control panel. Given that it's always been more of a bar game, I'm surprised it took this long to officially get cupholders built into the cabinet, but better late than never: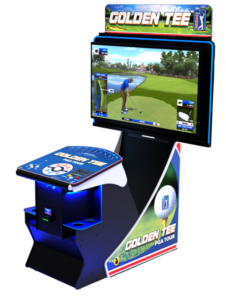 You'll also notice that it no longer sports a standard coin door, just offering a lone bill acceptor in the center. It also supports NFC login and payments (both Apple & Android-based payment systems are supported), and a touchscreen that replaces the old keypads.
Gameplay-wise, it looks similar to the Golden Tee you know and love, with these additions:
3 official PGA TOUR courses plus over 80 Golden Tee courses from GT2021.
New game modes
Subscription service provides year-round content delivered via WIFI.
Per the FAQ on the page's product description, this game will launch this spring only for commercial locations. In part that is done to help give locations a boost, since a home edition would harm already struggling venues. They do state that a Home Edition will be offered to those users eventually, but for now, you'll only find this one in arcades/bars/out-of-home entertainment.
When we first heard about this, I could only guess that it would offer 4K support as the trailer for it was in 4K, but now it's been confirmed. The cabinet above comes with a 55″ 4K monitor (instead of letting the operator pick something to fit their own budget – which often caused some wild varieties in GT setups), along with new PC hardware to drive it. They will not be offering conversion kits for Golden Tee 2021, as unfortunately some ops out there are a little bit lazy when it comes to such conversions (you know who you are 
 ) and they want something unified and nice for the PGA license. This will also maintain the ITnet fees found with Golden Tee LIVE. This and GT2021 will share some game modes and tournaments, allowing players to continue to use their player profiles without starting over.
Here's a new teaser for the game, (emphasized for those few whiners who don't seem to grasp the concept of what a teaser is), followed by the press release posted online. Given that this is launching in the Spring, I'd guess that the quick glance of the gameplay is close to finished.
For the presser, which can also be found here, keep scrolling; I'm curious to know what any operators out there feel about this. GT has been around for a while, and I was hearing from more than one local op I know in recent times that the game just wasn't a good earner anymore, even in a pre-pandemic bar environment. I imagine that this will give the series the proverbial kick-in-the-pants it needs since new courses and game modes only go so far in maintaining such interest over time.
* * *
Incredible Technologies is proud to announce a long-term licensing agreement with the PGA TOUR. The Golden Tee PGA TOUR Edition, an officially licensed golf simulation arcade game, is set to launch in the spring of 2021 to commercial locations across North America.
"We are thrilled to expand the Golden Tee universe and make the PGA TOUR an integral part of a game that millions have enjoyed across the past three decades," Elaine Hodgson, President and CEO of Incredible Technologies said. "This alliance will offer exciting new ways to play along with innovative technology that will bring the game to new heights."
Golden Tee is celebrating its 33rd year in 2021, having debuted in 1989. Since its inception, it has become a fixture in restaurants, bars and arcades across the world.
The Golden Tee PGA TOUR Edition will deliver the game in 4K graphics on a new, state-of-the-art cabinet. Included on the cabinet will be a refined control panel, touchscreen, Near-Field-Communication (NFC) device for contactless login and payments, LED lighting, cupholders and more.
"We have spent years researching and designing a cabinet for the needs of both today and tomorrow," Golden Tee co-creator and Vice President of Engineering Larry Hodgson said. "As a leader in the arcade and amusement industry for many years, our goal has always been to enhance and improve the user experience and push."
For the first time in the game's history, players will have the ability to tee off on some of golf's most celebrated courses. The Golden Tee PGA TOUR Edition will launch with three licensed PGA TOUR courses along with catalog of Golden Tee-original designs. Yearly updates that will provide more courses and features will also be available in the future.
Using real course topography data, Incredible Technologies has rebuilt all licensed PGA TOUR courses to ensure they are detailed representations of the designs in real life.
The Golden Tee PGA TOUR Edition will feature updated commentary from legendary broadcaster Jim Nantz, a partner of Incredible Technologies since 2005. He will be joined by professional golfer and announcer Peter Jacobsen, whose relationship with Golden Tee stretches back more than two decades.
"Golden Tee is a great addition to our PGA TOUR licensee family", says Len Brown, Chief Legal Officer and EVP Licensing & Merchandising. "They have a broad reach and we look forward to seeing how our golf courses challenge their players."
Along with an abundance of ways for players to compete on the new courses, the Golden Tee PGA TOUR Edition will introduce a refined presentation, new equipment, and the all-new Club Pass—a progression system that will award players virtual clothing and equipment as they play.
"We are just getting started," Vice President of Amusements and Project Director Adam Kramer said. "While the combination of a new cabinet along with some of the most famous courses in all of golf will provide an incredible foundation, we have a long-term vision of growing the platform and our audience."
For additional information or to preorder in Iowa, Nebraska, or Kansas City, talk to your rep at GAD. You can also visit GoldenTee.com or follow GT on most social media platforms @GoldenTee.