Golden Tee PGA & LIVE Courses Home Edition Courses Release Tomorrow
https://gadvending.com/wp-content/uploads/2023/05/2023-05-15_14-01-31.png
444
358
GAD Vending
https://gadvending.com/wp-content/uploads/2023/05/2023-05-15_14-01-31.png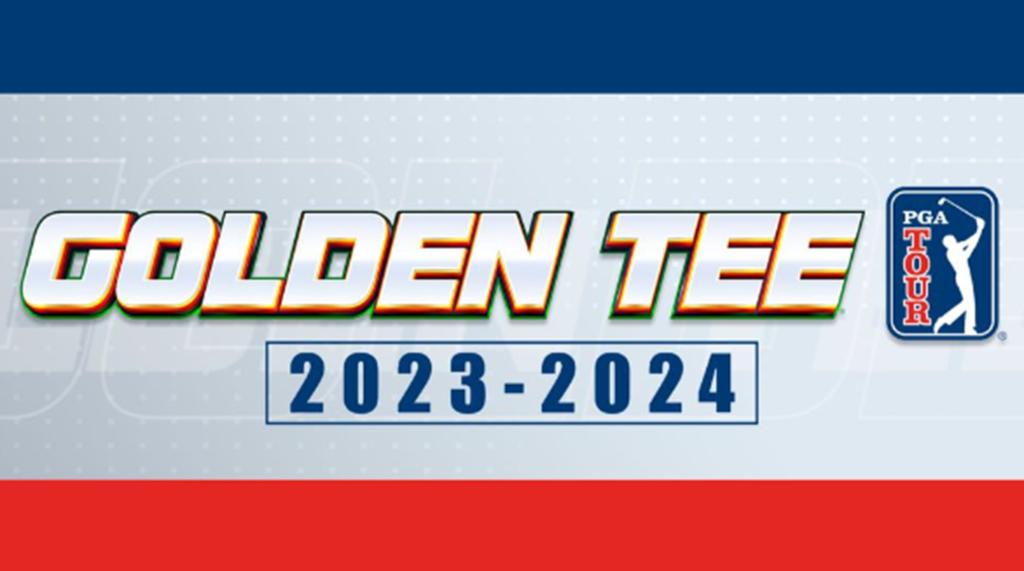 Golden Tee update season is upon us, with PGA TOUR & LIVE getting the 2023-2024 treatment starting with the Commercial release of Golden Tee PGA TOUR 2023-2024 on Monday, July 31, 2023!
Golden Tee PGA TOUR 2023-2024 Commercial Release Date: July 31st, 2023
Golden Tee LIVE 2023-2024 Commercial Release Date: September 5th, 2023
Golden Tee PGA TOUR& LIVE 2023-2024 Home Release Date: September 18th, 2023

We've revealed the entire lineup of 10 Courses coming to Golden Tee PGA TOUR 2023-2024 in the upcoming calendar of content, including the 5 Jim Zielinski designed GT Originals bound for Golden Tee LIVE, and we wanted to bring them all together for an update course roster round-up!
Check out the fresh set of courses coming to Golden Tee below, and we'll see you at the tee box soon, friends!
5 BRAND NEW Golden Tee Original Jim Z. Courses (PGA TOUR & LIVE 2023-2024)
Manhattan View
Jersey City, New Jersey
In the heart of Liberty State Park, a 1,200-acre piece of land tucked on the Hudson River, is a golf course with a backdrop unlike any other. On a piece of land where New Jersey ends and New York begins is Manhattan View—a creation with a name that says it all. The Statue of Liberty will serve as your guide; coupled with an array of illuminated skyscrapers. It's always afterhours, making Manhattan View GT's latest nightcap creation. The course itself is championship quality, equipped with all the necessary hazards to test your game.
South Pacific
Ambrym, Vanuatu
Lost in the Pacific Ocean, surrounded by sunsets and tumbling waves, exists one of the most spectacular golf courses ever created. The island of Ambrym, while stunning, requires a disclaimer: it is home to one of the world's most active volcanoes. As such, lava flows freely between palm trees, immaculate fairways, and greens. In a moment's notice, a golf ball's life can end with one wayward shot. Despite this constant threat of inferno, its beauty is undeniable. South Pacific is a place where vacation and expedition collide—on a piece of land most would struggle to find on a globe.
Missouri Hills
Ozark Mountains, Missouri
High in the vistas of the Ozark Mountains is Missouri Hills, a spin on one of the most popular tourist destinations in the United States. Despite the influx of people that flood to the Ozarks every year, Missouri Hills is peaceful and serene. Fall has arrived, and the leaves that paint the fairway are both vibrant and soothing all at once. Despite the calmness, the layout is anything but dormant. Significant elevation swings make for a slew of thought-provoking moments, and tall pine trees will make club selection a critical component of your round. Welcome to the Ozarks.
Bonnie Moor Black
Gullane, Scotland
One of the most popular destinations in the history of Golden Tee has been gifted a sister course—a Scottish gem blessed with all the charming characteristics that brought the original Bonnie Moor to life. Bonnie Moor Black is a classic links-style golf course in every sense. The punishing, beautiful fescue guard fairways and greens, and trademark pot bunkers return with a vengeance. Fans of the original will marvel at this new creation, and those greeting Bonnie Moor for the first time will fall in love with the views, obstacles, and another legendary closing hole.
Scablands
Sprague, Washington
More than two million years ago, a glacial lake broke free of a larger mass, sending an enormous wave sweeping across eastern Washington. The floods it brought would reshape the land, making the Scablands a melting pot of geographical offerings. The land is rugged, without question. Potholes, canyons, boulders and dirt are prominently featured throughout the round. Still, somehow, there's plenty of green to be found. This a golf course that isn't quite sure what it wants to be, and we mean that in the best possible way. A course truly millions of years in the making.
2 BRAND NEW PGA TOUR Courses (PGA TOUR 2023-2024)
TPC Southwind
Memphis, Tennessee
One of the most popular golf destinations in the United States, TPC Southwind is a staple of the PGA TOUR calendar and home to the St. Jude Classic since 1989. The par-3s on the course are undoubtedly its trademark, including Hole 11 and its island green, and Hole 14 which stretches out to over 230 yards. A boast-worthy score is yours for the taking with solid iron play…if you're up to the challenge.
TPC Summerlin
Las Vegas, Nevada
Hop on the 613 westbound from the Vegas strip. About 10 miles down the road, you'll find TPC Summerlin, one of the finest golf destinations west of the Mississippi. This private Nevada course is now open for play in Golden Tee. With a par-5 that can approach 600 yards, and a slew of par-4s that can be reached with just the right amount of oomph, TPC Summerlin is a PGA TOUR stop that demands both power and excellence. Deliver both, and you'll have a chance to celebrate an all-time moment in a city that knows how to do it.
3 REMASTERED Classic Golden Tee Courses (PGA TOUR 2023-2024)
Red Sands
St. George, Utah
Nestled on the Utah border, 120 miles north of Sin City, exists a place absent of casinos, bright lights and most civilization entirely. This is the desert, plain and simple. It's rugged, dry and full of cacti. As the name would suggest, Red Sands carries a certain color tint most desert courses in Golden Tee have never seen. Only this game has seen this course before, back in 1997, when Red Sands first made its debut. Twenty five years later, this spectacle has been completely modernized. Few things, outside a good Scotch, age as gracefully as this course has. Players new and old are welcomed.
Cumberland
Asheville, North Carolina
In the Eastern part of North Carolina exists a course that has been played by millions of Golden Tee players over the past 18 years. Now, however, the lush green hills of Cumberland, a GT LIVE original, have been recreated. Its winding layout and elevation shifts make for some fascinating shots, while the bodies of water and sand traps are perfectly placed. The strategy for most of these holes are plenty defined. Hitting the shots required is another task entirely, and those willing to risk it all on a single shot will have no shortage of chances to prove their excellence.
Kangaroo Trail
Alice Springs, Australia
Smackdab in the center of Australia, like a bullseye on the dartboard, Alice Springs houses one of Golden Tee LIVE's original destinations. Only now, nearly two decades later, Kangaroo Trail has been rebuilt and reborn. The popular Aussie course will look plenty familiar for fans of the game who have played in the past. The dried rivers, the well-positioned canyon walls and the trademark closing hole are just a part of what defines a course that requires no real introduction. With some tweaks and modifications, however, Kangaroo Trail will challenge players new and old in ways it never has.
GAD Knows Golden Tee PGA
We have the current versions of both the commercial and home Golden Tee PGA consoles available, in stock. Call us for a price quote, delivery information and to answer any questions on the upgrades coming soon.