The Best Bar Games to Keep Customers Coming Back
https://gadvending.com/wp-content/uploads/2021/08/AdobeStock_121502307-scaled.jpeg
2048
1363
GAD Vending
https://gadvending.com/wp-content/uploads/2021/08/AdobeStock_121502307-scaled.jpeg
Running a successful bar is about more than just serving great drinks; it's about creating an experience that keeps customers returning for more. One way to do this is by adding pool tables, foosball, and arcade games to your bar. Here are some reasons you should consider adding these games to your establishment (and GAD can help you determine the best mix for your place by demographic, floor space and income requirements). 
Increases Customer Engagement
Games in your bar give customers something to do while they enjoy their drinks. It's a great way to break the ice and meet new people. Playing games together creates a sense of camaraderie and connection among customers as they cheer each other on and interact with each other. This, in turn, increases customer engagement, which can help boost profits.
Customers who enjoy their time at your bar are more likely to return.
Increases Foot Traffic
Having pool tables, foosball, and arcade games in your bar can help draw in more customers. People may come to play the games and then stay for drinks and food. This can increase foot traffic, leading to more profits and a sense of community that can lead to new friendships and repeat business.
Generates Additional Revenue
The games themselves can bring in a boost of revenue but also bring in additional customers who may have yet to visit otherwise. Plus, people tend to stay longer when engaged in an activity, so they'll likely order more drinks and food.
Appeals to a Wide Range of Customers
Games like pool, foosball, pinball, and arcades appeal to many customers. They're great for groups of friends looking to hang out and have fun, but they're also popular among solo customers who want to pass the time.
Enhances Your Bar's Atmosphere
Adding these games to your bar can enhance your establishment's atmosphere. It creates a fun and relaxed vibe that customers will appreciate. Plus, it gives your bar a unique selling point that sets it apart from other bars in the area.
Provides an Opportunity for Events and Tournaments
Hosting events and tournaments centered around these games is a great way to increase business. You can organize leagues or tournaments, offering prizes to the winners. This generates revenue and creates a sense of community around your bar.
Top Games for your Bar
Darts is a classic bar game that can be enjoyed solo or with a group of any size. It's a budget-friendly option that only requires some wall space for installation. A new type of dart game is Augmented Reality Darts. These systems take interactive darts to the next level. With a plain white dartboard, the gameplay graphics are superimposed over the board and surrounding area with an ultra-bright laser projector.
Pinball has a major resurgence – especially with the connection to apps. The apps from various companies allow different types of game interaction, player rankings and global game play. And, players are taking notice. The resurgence of pinball play adds loyalty to your establishment.
Pool is another crowd-pleaser and draws enthusiasts from near and far. While easy to learn, mastering the game takes skill and dedication, making it a favorite for patrons who want to improve their game over a few drinks.
Tabletop shuffleboard has transcended its traditional reputation and is now a great addition to any bar seeking to offer competitive entertainment without sacrificing space.
Foosball is a fun and relaxed way to enjoy a round of soccer without strenuous running. Plus, it offers the opportunity to enjoy a drink or two while playing.
Air hockey is another bar game that offers a chance to enjoy physical activity while holding a beer. It's an excellent option for patrons looking for a laid-back game that doesn't require too much movement.
Top Arcade Bar Games
BIG BUCK HUNTER® RELOADED™
Experience a faster adventure with a new player-friendly interface and eye-catching cabinet design that will captivate you wherever you are. Big Buck Hunter Reloaded, available in two distinct cabinet configurations, is the most content-rich Big Buck Hunter title of all time – featuring ten animal adventures, including Buckzilla and Zombie Deer, and fresh premium content, like Terminator Salvation™: Delta Mission and In Case of Monsters™: Lost Island. Features new player-demanded game modes, such as Showdown and Team Play, and a never-before-seen weapon, Bow Hunting.
Claw Machines
Patrons can test their skill and luck with the classic game of claw machines to win unique items. These are easy machines to add to a waiting area, foyer and by the restrooms. Anywhere there is foot traffic that has a place to stop and win! Keep your game stocked with unique items to attract the best players.
Golden Tee PGA Tour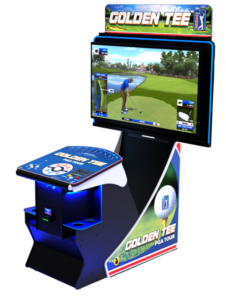 Create a friendly competition among patrons with the new Golden Tee PGA Tour cabinet, equipped with LED lighting, cupholders, and a 55 "4K commercial-grade TV that will enhance the visual and audio experience.
Golden Tee cabinets are a great investment. Golden Tee is now on its latest PGA but all game cabinets can be upgraded to the newest courses, avatars, and equipment.
Golden Tee is now integrated to the internet to provide game playing with people your customers know or participate in tournaments globally. A very exciting way to play this game!
Skeeball
Customers can challenge themselves or play for fun prizes with the classic game of Skeeball. Toss the ball up the ramp and into the hole with the highest point value.
Basketball Arcade
See how many baskets you can make before time expires.
Pinball
Add excitement to your bar or restaurant with the timeless game of Pinball.
Pinball has changed rapidly with technology – and the popularity of pinball shows this to be true. This is a game that a solo player can enjoy just as easily as a few players can gather to compete. Plus the titles of pinball games in the last 2 years has amazing game play and variety. To get an idea of what works for you, contact a GAD professional to help you determine what fits your needs best.
Host pinball tournaments and watch your revenue skyrocket.
Focus on a genre of games – rock music, family oriented pinball or follow a movie genre.
Connect your pinball games to the internet to allow players to connect their apps.
Add pinball to a really dark corner to bring light and action to otherwise "dead" floorspace.
Boxing Arcade Machines
Boxing Arcade Machines are a great addition to any bar. Boxing allows customers to "flex their muscles" and punch out a little frustration. These are great games for all ages to work out.
Adding pool tables, darts, foosball, and arcade games to your bar can provide various benefits. They increase customer engagement, generate additional revenue, appeal to a wide range of customers, enhance your bar's atmosphere, and provide an opportunity for events and tournaments. So, if you want to take your bar to the next level, consider contacting GAD to add these to your establishment.